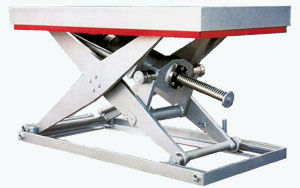 Our delivery programme includes extremely flat but efficient and powerful elevating platforms and high-power units in tandem operation upto 50 t carrying power.
The computer-optimized design of the full steel scissors and the kinematics as well as the modern manufacturing methods allow us to offer you a very competitive price.
We offer you a silient hydraulic drive (220/380 V) but also as a special solution a quick elevating system with a multi-shift-jog operation by means of a proportional control (damped run-out)
The units are equipped with safety elements in accordance to UVV, VGB 14 as f.ex. foot protection contacts, crossing sheet metals, protection railings, unwind protection etc.