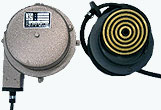 This programme includes cable rewinder with thermal protection in sheet steel execution for manual winding, provided with couvered 4-sockets elements for max. 50 m H07RN-F 3x1,5 or automatic cable rewinders made of hard-plastic with retracting spring and back-run safety machanisme for max. 12 m oil-resistant synthetic cables 3x1,0.

In addition to the above cable rewinders our programme includes automatic cable rewinders for light rubber-sheathed cables, earthing cables or control lines.
Those rewinders do not need any special maintenance.

They are equipped with special springs and an automatic catch (back-run safety device) which guarantees a pull relief operation.

The conductors are provided with earthed or CEE couplings and the earthed drums are provided with earthing terminals.
The rewind capacity is upto max. 18 m cables H07RN-F 4x1,4 or 15 m 5x2,5.
The rewinders are designed for stationary installation and with corresponding adapters they can be installed to the wall or ceiling, too.